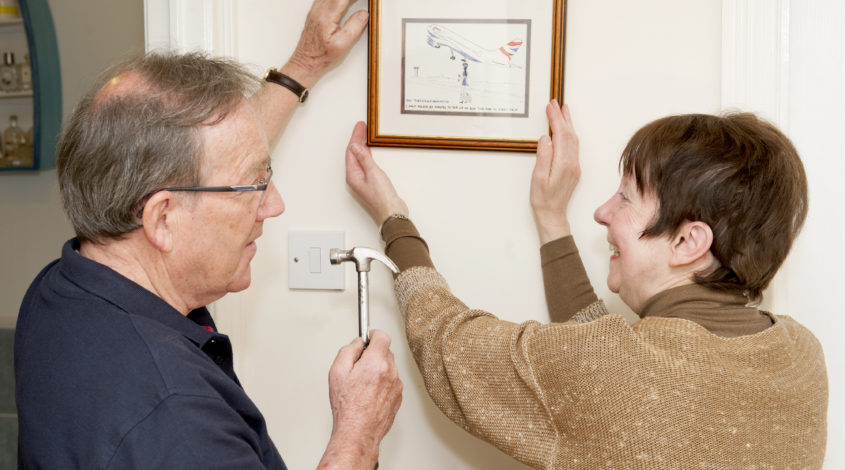 IMPORTANT UPDATE:
In line with the guidance shared by Health Protection Scotland, we have decided to suspend our Handyperson service for non-emergency work and are therefore not recruiting new volunteers at this time.
At Care and Repair Edinburgh we are acutely aware of events around the world relating to the Coronavirus strain COVID-19.  We are also aware that we have a significant number of current volunteers who are entering older people's homes and are looking for guidance on any actions they should take to amend their normal procedure due to COVID-19.   We are following the guidance shared by Health Protection Scotland in their document 'COVID-19: Information and Guidance for Non-Healthcare Settings'.  More information can be found here.
If you are considering becoming a volunteer for Care & Repair Edinburgh, many thanks for your interest and we'd be delighted to hear from you in the future.
We have a team of over 50 volunteers carrying out DIY tasks in older and disabled people's homes around Edinburgh. It's a great chance to contribute to your local community and build new relationships with people who really value your help.
Our volunteers enjoy the flexible nature of their volunteering with us and can expect training, support and the ability to claim expenses.
Volunteers offer the following services:
Practical household tasks such as:
Changing lightbulbs and smoke alarm batteries
Fitting door chains, viewers and door locks
Fixing cupboard doors; assembling flat pack furniture
Hanging pictures, fixing curtain rails, changing curtains
Giving advice on home safety and security
Technical handyperson service such as:
Set up of TV/DVD/Freeview/Digital Box
Setting up printers
Downloading and setting up Skype
First Line PC fixes
Uploading photos from a camera
Setting up phones
You can become a volunteer by filling in our online application form, downloading the volunteer application form or by calling us on 0131 337 1111.
Please note that we will need to complete Protecting Vulnerable Groups (PVG) membership scheme checks before you can commence work because you will potentially be working in vulnerable people's homes. This can take 6-8 weeks to be approved.
Apply to become a volunteer online